The Ultimate Slow-Cation Experience
in partnership with Hobbs of Henley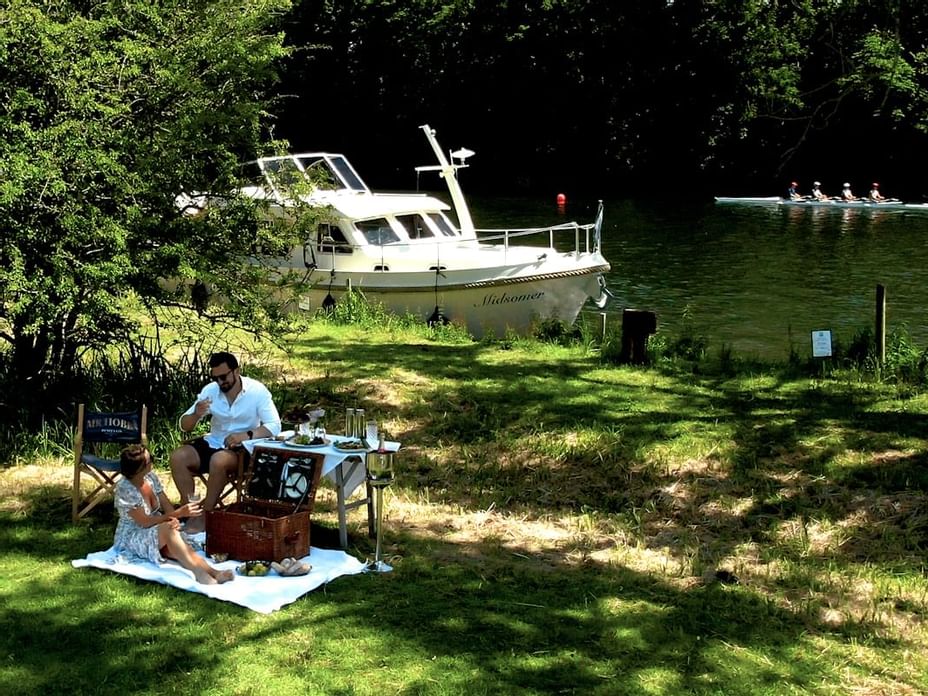 Step aboard our 'Slow-Cation' this summer in our ultimate summer experience on the 'Thames Riviera'. Combine a night aboard a luxury Hobbs of Henley river cruiser with a stay at our stylish waterside retreat,
With plenty of time to enjoy the pleasures of the river, from laid-back afternoons lazing over sun-speckled picnics, refreshing wild swims and a taste of Henley's finest sport, rowing; we have created the ultimate way to embrace the joys of slow travel.
Your journey begins in historic Runnymede, Surrey, where the captain and crew will welcome you aboard your private boat with a celebratory glass of Champagne or Mr Hobbs Gin. Once on board, we invite you to sit back and relax as you cruise along the river and enjoy the views of the rolling Chiltern Hills passing by and take your time to settle into your spacious ensuite double cabin where we provide crisp white bed linen, bathrobes and luxury amenities.
At Royal Windsor, it's time to indulge in one of the greatest of British summertime traditions, a glorious picnic. We will find a quiet shaded spot on the banks of the river and layout a delicious feast for you to enjoy as you watch life on the river go by.
Back on board and as the sun goes down, we provide the option to enjoy a seasonal dinner under the stars on your private deck, as we cruise along to our overnight destination of Marlow.
The next day, the journey continues along the river to one of the Chiltern's prettiest villages, Hurley, the ideal place to jump off for a wild swim or try stand-up paddle boarding.
A final treat awaits you before disembarking at Henley-on-Thames, as we have partnered with world-famous Leander Club to offer you an exclusive rowing lesson with one of their professional oarsmen.
Once back on dry land, we will welcome you to our riverside sanctuary, our stylishly renovated 16th-century coaching inn is the perfect base from which to explore the bustling market town of Henley itself, the nearby Chiltern Hills and the surrounding English villages of Hambleden and Sonning. Dinner is served in the elegant and nautically-inspired, The Clipper Restaurant, and a nightcap can be enjoyed in a cozy corner of the Quarterdeck Bar, where stories of the river and the ultimate Slow-Cation can be retold.
___________________________________________
The Slow-Cation package includes two nights' accommodation for two and is priced per couple.
- One night private river cruise aboard a Hobbs of Henley hybrid-river cruiser inclusive of skipper, arrival drinks and canapes, afternoon tea and soft drinks.
- One night at The Relais Henley staying in a riverside room, including dinner, bed and breakfast and a rowing lesson for two with Leander Club.
- Reservations open from July - to end of October 2022 and April - October 2023.
Prices start at £3,955 per couple. Terms & Conditions applied. Subject to availability.