Henley Royal Regatta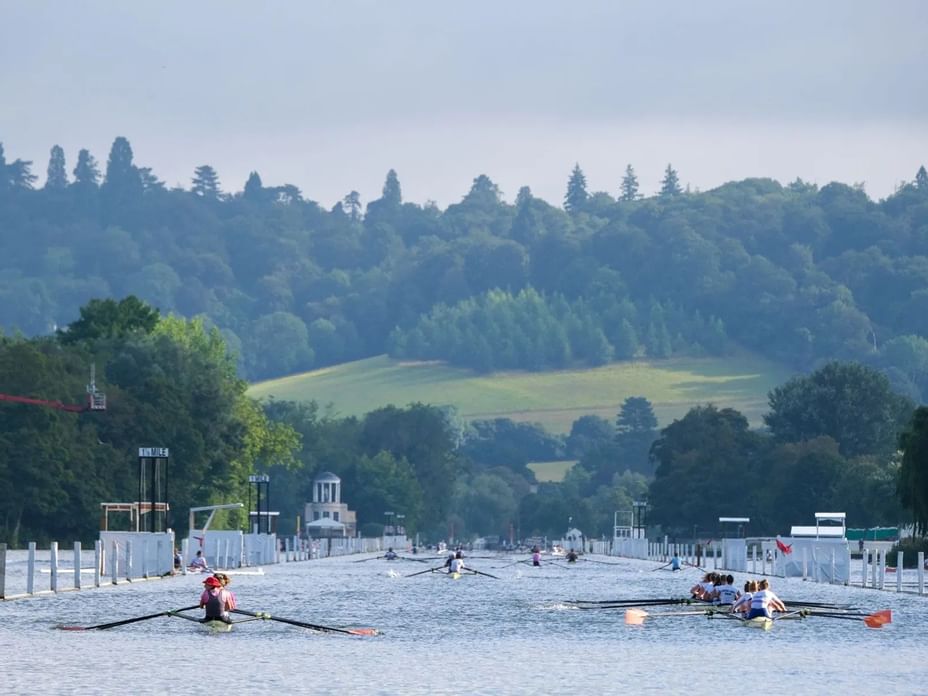 There's few sporting events quite like the Henley Royal Regatta, and for many, there are no better event in the summer sporting calendar the world over.
And there's a reason why it is the most well known regatta in the world, attracting thousands of visitors over the week. Enjoy the thrill of over 300 races of an international standard, which can include Olympic rowers as well as crews new to the event, coming to show their talent on the ultimate proving ground.
Hosted on 27 June - 2 July 2023, this is a date to be marked in your calendars.
The Henley Royal Regatta is known as one of the most prestigious prizes to be won in rowing, with a rich history that dates back before both national and international rowing federations were even founded. It is this level of prestige and desire to win which often puts the world's best athletes on their best form, adding to the excitement of the event.
RACE SCHEDULE
The Henley Royal Regatta have released their provincial racing schedule, which gives an overview of what to expect during the race week. Find out more and view the schedule here.
DRESS CODE
Henley Royal Regatta is a modern sporting event with a history steeped in tradition. A formal dress code applies in the Stewards' Enclosure, and Members and their Guests are requested to respect this heritage and are expected to dress appropriately.
Find out more and read the guide on what to wear on the Regatta's official website.
ROYAL REGATTA HOSPITALITY PACKAGES
Experience exclusive hospitality in the privacy of your own function suite within the Relais Henley Hotel just a few meters from the River Thames with views of the Leander rowing club and the finishing line o in the distance.
Enjoy a champagne arrival, space to relax and unwind, access to the Relais Courtyard, food throughout the day including a decadent bu et and cream tea before heading off following the days events.
Packages - max occupancy
- Clip Suite upto 15 pax £2,250
- Petit Palm up to 20 pax £3,000
- Palm Court up to 30 pax £4,500
- Exclusive use of the above up to 65 pax £8,500
- Clipper Restaurant up to 50 pax £7,000
*Bookings taken on Tues/Wed/Sun will receive 20% off the above-marked prices
Your day planned
- Your guests are greeted with a glass of Champagne on arrival
- Access to your own bar in your private room; all drinks are charged on consumption
- Tea and Coffee Stations with fruit and snacks - 12.30 Lunch is served – Comprising of a two-course standing hot and cold fork buffet
- 15.30 Time for your Cream Tea
- 18.00 room hire ends
DJ's will be playing in the outside Courtyard from 18.00 on Thursday, Friday, and Saturday evenings
*Please note access to Regatta enclosures isn't included in the packages Public area tickets can be purchased through https://www.hrr.co.uk/public-tickets/
IMAGE COURTESY OF HENLEY ROYAL REGATTA