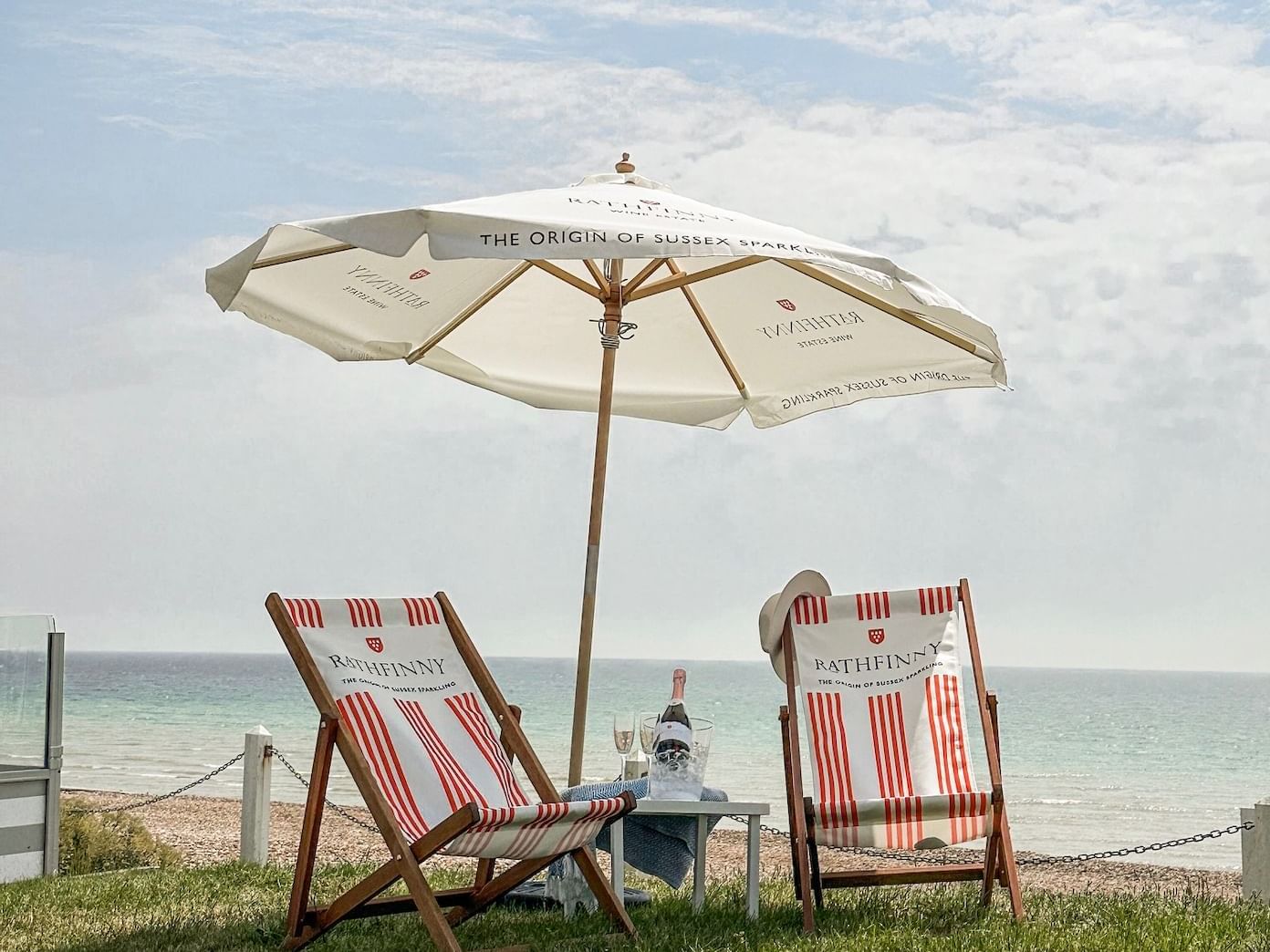 Retreat on The Beach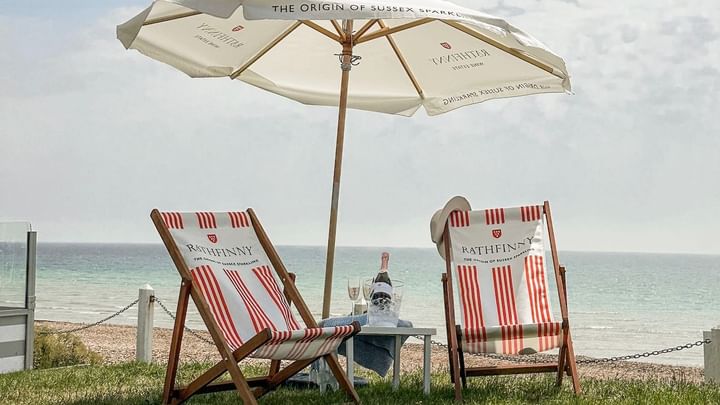 A sparkling summer season awaits at The Relais Cooden Beach, with the launch of 'Retreat on the Beach with Rathfinny'. We invite our guests to enjoy the summer season on the Sussex shores, whilst indulging in Rathfinny's finest sparkling vintages served on the private beach, lawn and terrace overlooking the sea.
On Sundays, new well-being experiences including yoga and Chi Gong will be available as well as new spa treatments from the beachfront Pergola or Sea Cottage. A new summer menu featuring locally sourced seafood and seasonal favourites complements the sparkling wines served by Rathfinny.
Served from silver ice buckets and kept cool under the shade of branded parasols, the sparkling wines from Rathfinny put the 'sparkling' in this seafront experience. Available by the bottle or glass is the Rathfinny Classic Cuvée 2018, which has a distinctive buttermilk golden hue and notes of ginger, white plum, and lemon and the Rathfinny Rosé Brut 2018, a pale pink Rosé with notes of Seville orange cream, peach, and wild strawberry; beautifully showcasing the increased presence of Pinot Noir within the blend.
The crisp and refreshing wines are the ideal complement to a new all-day bar and terrace menu full of locally sourced seafood specials and fresh seasonal favourites. This new menu includes The Rally's Smoked Seafood and Charcuterie Boards for sharing, The Relais Fruits de Mer salad, Steamed Thai Mussels, Trio of Crab Cakes, and Baked Lemon Sole. To add a touch of seaside nostalgia to the occasion, guests can indulge in ice cream from the hotel's very own blue and white-striped vintage ice cream van.
Embracing the restorative qualities of the sea air, Retreat on the Beach also opens its spa pergola for alfresco treatments, which can be booked in advance or on the day subject to availability and offers a host of therapies such as the Lava Shell Massage. This therapy uses heated Tiger Clam shells as a massage tool with aromatherapy oils, great for soothing aches and pains and water retention.
Please note that this is not a package, all the above can be booked separately.
Enquiries for Retreat on the Beach with Rathfinny at The Relais Cooden Beach can be made by contacting us directly at reception@therelaiscoodenbeach.com or calling +44 (0) 1424 842281.
For more information about Rathfinny or to buy their wines please click here